PLEASE CHECK LISTINGS BELOW FOR CLASS DETAILS!
Galerie Copper
Featured artist for the month of March at Galerie Copper is Libby Fife of Valley Springs. A former banker, Libby is a self-taught award-winning artist. Libby is teaching two sketching classes at Town Hall Arts this month. Read more about Libby under "Galerie Artists 2014."
Galerie Copper artists include Dorothy Babinsky, Kim Barrington, Diana Boyd, Judie Cain, Patricia Cherry, Barbara Conley, Kitty Davids, Geneva Davis, Marlene Dotur, George Allen Durkee, Diana Eppler, Sarah Evans, Libby Fife, Margo Flanagan, Brent Frazer, Debbie Gurich, Gemma Gylling, Renetta Hayes, Susie Hoffman, Don Hukari, Frank Hynes, Marie Jobes, James Kelly, Randy Klassen, Nancy Macomber, Carolyn Macpherson, Pamela Mejia, Ken McBride, Ruth Morrow, Pat Rohovit, Mary Jean St. Claire, Selma Sattin, Sunny Sorensen, Dianne Stearns, Ellie Stone, Irene Taylor, Rey Varela, Eva Walker, Staci Williams, Janet Wilmeth, and Terri Wilson.
Congratulations to Ken McBride
Top Selling Artist At Galerie Copper Last week

Town Hall Arts, under the clock, 145 Stone St., Copperopolis Town Square.


---
Atelier Copper
Classes starting Mar. 10, 2014
Occasionally scheduled class days or times will change, so please check this website regularly.
A deposit is required to hold your place in most classes.
Expressions in Oil with Diana Boyd of Sonora
Tried and true right brain methods have made this oil painting class fun and popular. Classes include instruction in painting from upside-down photos, right-side-up still lifes, and timed pieces, using a variety of grounds. Diana's style both on canvas and as an instructor is loose, expressive and full of spirit!
Morning Expressions in Oil
March 10, 17, 24
April 7, 14, 21, 28
Cost is $125 for 4 weeks or $200 for 8 weeks
Afternoon Expressions in Oil
March 10, 17, 24
April 7, 14, 21, 28
Cost is $125 for 4 weeks or $200 for 8 weeks
Wednesday, March 12 • 9:30 am to 12:30 pm
Open Painting
Life Drawing with George Allen Durkee
Thursdays, March 13, 20, 27 • 9 am to noon

Draw from a live nude model on Thursday mornings. No experience needed. $10 per session. Limited instruction if you want it, or George will stay out of your face if you don't. Materials available at Town Hall Arts. You will need an 18x24 newsprint pad and drawing pencils (charcoal or graphite – 4B and/or 6B). We will start these sessions at exactly 9 am. Sign up with Larry.

Town Hall Arts is always looking for life drawing models. If you are interested, please contact Larry at 785-2050.
Friday, March 14 • 9 am to 4 pm
Carol Earle of Oakdale
Watercolor in the Morning 9 am to noon
Carol will furnish paint and brushes. $20.
Oils in the Afternoon 1 pm to 4 pm
Bring a blank 16x20 canvas. Carol supplies everything else.
Class cost is $20.
Copper Art Club
Wednesday, March 19 • 9:30 am to 12:30 pm
Finishing Lavender House with Susie
We are about halfway through this painting. If you want to join the group on this painting, plan to catch up at an art club meeting before this one so we will all be at the same place. You will need 1/4 sheet arches cold press paper, masking fluid, pick-up, spray bottle, sponge, toothbrush, scraper, 1" flat brush and smaller round brush, paper towels, tissues, and your usual watercolor supplies.
Suggested colors for this painting are: cerulean, permanent rose, Indian yellow, sap green, mauve (violet), thalo green, burnt sienna, raw sienna, Prussian blue.
Cost: $10 members; $15, non-members.

Drawing
Get Started Sketching with Libby Fife of Valley Springs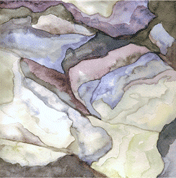 Fridays, March 21, 28 and April 4 •
9:30 am to 11:30 am
This four-session class is for anyone who is interested in the benefits of casual sketching both outdoors and indoors. Recording the natural environment through words and pictures can be rewarding and satisfying. This class will focus on developing basic observational skills, learning how to describe the environment simply, and creating sketches from these observations. The concepts and exercises presented are appropriate for absolute beginners and those with some casual doodling time under their belts. Even advanced sketchers can have some fun here. You do NOT need to be able to draw a straight line to enjoy this class!

Supplies needed include a sketchbook such as the 8x8 spiral bound Super Bee Sketchbook for wet and dry media, an assortment of graphite pencils, pencil sharpener, eraser, and pens—try a variety. You may also want to use colored pencils, crayons, pan set of watercolors--such as Koi, watercolor pencils, and a larger wash brush. Cost is $60 for the four-week session.
Drawing
Fridays, March 21, 28 and April 4 • 12:30 pm to 2:30 pm
Sketching in Nature with Libby Fife of Valley Springs
This class is designed to be a continuation of the beginning course. The emphasis will once again be on developing observational skills, using the tools of simple descriptions and simple sketching, to record our experiences in nature so that we may connect more fully with the world around us. Core concepts from the first class will be reviewed. One to two select concepts will be emphasized. Greater time outdoors writing and sketching (or indoors if raining) with guided feedback from instructor will help to support continued basic development for sketchers just getting started. This class is appropriate for beginning sketchers who have taken the first class or casual sketchers/nature journalists with some experience who want a kick start to help them sketch more frequently. If you haven't sketched in awhile, this class can be used as a refresher course for getting back in touch with some basic ideas and skills.
Suggested supplies, besides the drawing supplies listed in the "Get Started" class, include a pan set of watercolors, such as Koi, where there are two of each primary color.
If you choose to buy tubes, you would look for these colors:

Blue-- cool and warm version, such as ultramarine blue and Phthalo blue/cerulean
Red--cool and warm version such as quin. rose and perm. red/pyrol red
Yellow--cool and warm version such as azo/Hansa yellow and perm yellow deep/new gamboge
OR watercolor pencils in a cool and warm version of each primary.
You will also need 2-3 pieces of watercolor paper or matboard.
Larry has scraps in the classroom for 50¢ each.
Please include paper towels in your supplies for this class.
Class cost is $60 for four weeks.
Saturday, March 22, 10 am to 2 pm
and Sunday, March 30, 12 pm to 1 pm
Lighted Blocks with Kathie Peery of Copperopolis You will need to bring Welbond or any glue that dries clear and a 1" flat brush.
Other supplies included in class cost of $25.
Please deliver your contest entry to Larry March 28.
Limit is two entries per person.
Please deliver your contest entry to Larry March 28.
Limit is two entries per person.
A pastel workshop to help you get the most out of the wonderful medium of pastels will be offered by award-winning artist/instructor Tina Moore. Tina is a Distinguished Pastellist with the Pastel Society of the West Coast and a Signature member of the Pastel Society of America, the Women Artists of the West and the Sierra Pastel Society. Learn to put life, depth, and drama in your pastel paintings. Both experienced pastel painters and those new to the medium will be able to make a beautiful painting with plenty of one-on-one instruction. Participants can make their own choices regarding subject matter. The principles apply whether you are painting a portrait, landscape, or anything else. Bring a photo to draw or still life to set up. Supply list available from Larry at Town Hall Arts, 785-2050,
larry@townhallarts.com
. Cost of class is $30.
Wednesday, April 16 • 9:30 am to 12:30 pm
Watercolor Tulips with Kim Barrington of Angels Camp
Bring your usual watercolor supplies. Cost of class is $10 members; $20 non-members.
Wednesday, April 16 • 1 pm to 2:30 pm
Bunnies with Kim Barrington of Angels Camp
This is a vacation watercolor class for kids in grades K-3. There is no cost for this class, but purchase of a $5 supply kit is required at sign-up to hold your place. Class size is limited, so sign up now with Larry at Town Hall Arts.
Improve Your Painting
Mondays, May 5, 12, 19, 26 and June 2, 9, 16, 23, 30 • 10 am to noon
Improve Your Painting with Sunny Sorensen of Hathaway Pines
Lesson plans will include instruction and practice in creating the armature (structure) with line and notans, massing and abstracting shapes. Further instruction in keying value to color and creating color shapes, types of edges and how to use them effectively. Also, various methods of guiding the eye through the painting when you need a focal point and when you don't. All work will be done from life, most in studio, and some outside in the second month. Students should be willing to do one 1/2 hour drawing a day on their own.
More information to come.
Mondays, May 5, 12, 19, 26 and June 2, 9, 16, 23, 30 • 1 to 4 pm
In The Raw--Serious Life Drawing with Sunny Sorensen
Students draw from a live nude model.
More information to come.
Thursday and Friday, May 1, 2 • 10 am to 3 pm
Watercolor on Japanese Masa Paper with Martha Wallace
Experience watercolor on this unique Japanese paper in a two-day workshop with well-known foothill watercolor teacher Martha Wallace of Avery. You may need beginning-intermediate level of drawing and watercolor experience to make the most of this workshop.
Watercolor
Friday and Saturday • May 30, 31
Wet-into-Wet Transparent Watercolor Landscape
Workshop with Alvin Joe of Foster City
Friday: 9:30 am to 4 pm
Saturday: 9:30 am to 3 pm
Award-winning watercolorist Alvin Joe will conduct this two-day landscape workshop at Atelier Copper. A career artist with over 35 years in advertising design and illustration, Alvin has won numerous awards and recognitions in the San Francisco Bay Area. Alvin is a signature member of the California Watercolor Association and has two of his paintings published in Splash 10.
Students will work from photographs provided by the instructor the first day and outside on Saturday. Alvin encourages students to bring a sack lunch so that they may spend as much time as possible on their project. Suggested supply list for beginners: Arches cold press 11x15 watercolor paper or 10x14 block, #4 and #10 round brushes (synthetic or sable), 1" and 2" synthetic flat brushes, 2B pencil and eraser, water container, paper towels, palette, and Graham watercolor paints in these colors: alizarin crimson, raw sienna, cobalt blue, ultramarine blue, Payne's gray. Extended palette includes cad yellow, cad orange, burnt sienna, and quinacridone rose. Experienced watercolorists may bring their usual watercolor supplies. Cost for the two-day workshop is $100, with a $50 deposit at sign-up. You may also sign up for one day for $55. All levels of experience are welcome. Class size is limited to 15 students, so please sign up soon.
Did you miss this week's newsletter?
Click here for the
March 3rd, 2014